The Speedy Speech™ Home Edition is an all-inclusive program for the remediation of articulation errors at home. This innovative program is designed to take only a few minutes a day, and helps children learn standard speech quickly and efficiently. The Speedy Speech™ Home Edition program is systematic and easy to follow. It guides parents and caregivers through the process of improving their child's speech with only 5-10 minutes of daily practice, and incorporates the same basic plan and techniques used by professionals in the field of Speech-Language Pathology. With the Home Edition of Speedy Speech™ all of the planning has been done for you and all of your materials are within easy reach in your all-inclusive book.

Forward Thinking

Speedy Speech™ is a forward thinking therapeutic approach that has revolutionized how Speech Therapists and parents help children remediate articulation errors.

Innovative Approach

With our innovative drill based approach that includes embedded phonemic consistency and co-articulation practice, your child will develop motor memory and improve significantly faster than with traditional therapeutic practices.

Quick and Efficient

The Speedy Speech™ Home Edition incorporates short, intensive drill sessions that offer children the opportunity to produce many more target sound attempts than in the traditional once weekly, 30 minute therapy. Proven highly effective in both the home and school based settings, the Speedy Speech™ program offers easy to follow step-by-step instructions and includes all of the materials necessary for program implementation.

Earlier Remediation

At Speedy Speech™ we believe that earlier intervention is key. When appropriate, parents and speech professionals are encouraged to address common sound errors, such as substitutions and distortions, at an earlier age. This eliminates the development of habitual errors and prevents a child from practicing incorrect sound productions for an extended period of time. Earlier intervention results in faster remediation, and most children complete the program in just a few short months.

Our All-In-One Book

The Speedy Speech™ program comes in sound specific, "all-in-one" spiral bound book that includes all of the materials necessary for program delivery. All of the planning has been done for you, with all of your therapeutic materials within easy reach.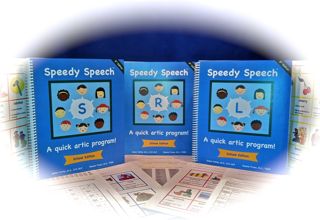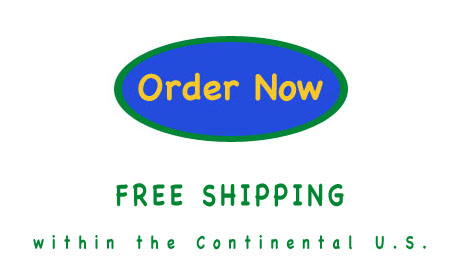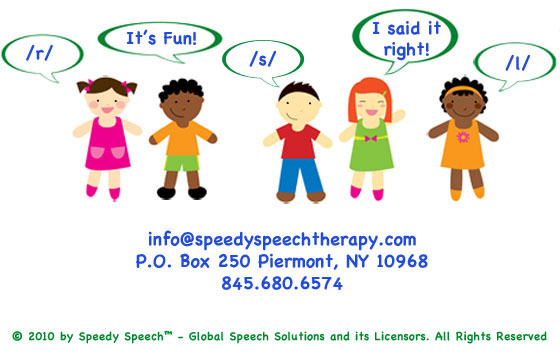 Our Latest Testimonials

"My Speech Department just switched over to Speedy Speech. Finally a therapy model that really works!"

- NY SLP

"I love how this product has thought of everything! All of the materials are right there for you."

- GA SLP

"This is an excellent therapy program. It is systematic and very well organized."

- TX SLP

"I can't believe how quickly my students improved. I definitely recommend this program!"

- NJ SLP

"I used the Home Edition with my daughter and it was very easy to follow and parent-friendly."

- NY Parent

"The HW calendars are great! You made assigning Speech HW easy and meaningful."

- CA SLP

"This program changed my therapy practice. My students are improving dramatically faster!"

- VT SLP

"I finally learned how to say the /r/ sound!"

-NY Student